Keep Your Business Booming with Commercial Pressure Washing Work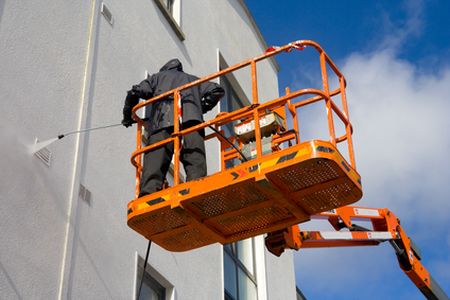 When it comes to having a thriving, successful business, one aspect that business owners must pay close attention to, is the outside appearance of your commercial property. There is nothing quite like a first impression when it comes to attracting potential clients or customers to your place of business, and commercial pressure washing will ensure you always make the best impression. A well-kept place is also enjoyable for your staff and team members, as they come to work each day, too. The professionals from Steen's Power Washing company know the ins-and-outs of caring for commercial properties, as we offer exterior cleaning services for all types of businesses.
The services that we provide for our commercial customers include building soft washing, roof soft washing, concrete surface cleaning, window cleaning, and gutter cleaning. From the top of your commercial property to the bottom, and to all the surrounding hardscaped areas, we have the expertise to thoroughly clean your place. We will remove all dirt, debris, mildew, mold, algae, and any other type of unwanted substance from the exterior surfaces of your business property and ensure that we leave your place clean and pristine for all to enjoy.
Additionally, the environmentally friendly cleansers that we use, along with our variety of washing processes, are safe for all building materials, as well as for all of your surrounding vegetation, too.
The pressure washing professionals from Steen's Power Washing enjoy working with our commercial customers. Some of the commercial properties that we specialize in include; apartment complexes and HOA's, ATM areas, storefronts and sidewalks, dumpster pad areas, rear restaurant areas, drive-thru areas, driveways and walkways, and soft washing multi-unit apartments, condos, etc. We know that you work diligently to take care of, and manage, your commercial property, and we aim to be your partner in your exterior-surface caretaking endeavors.
If you are interested in learning more about Steen's Power Washing commercial property cleaning services, or if you would like to have a free, no-obligation estimate of your particular project, then please contact us today. Be sure to ask about our roof cleaning packages while you're at it.