Important of Investing in Routine Gutter Cleaning Work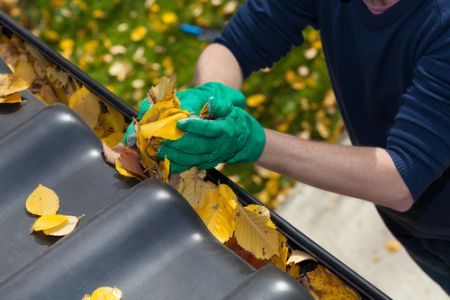 Dirty gutters are the bane of any home, especially during periods of heavy rainfall when your home could be susceptible to water damage. To prevent this damage from affecting your O'Fallon home, you'll want to invest in a gutter cleaning, which will effectively blast away:
Twigs
Leaves
Grimy buildup
Dead insects
Bird nests
Of course, for quality work, you'll want to leave the work in the hands of our pressure washing professionals. We'll get your gutters thoroughly cleaned out and ensure that your home remains protected against issues that dirty gutters could fail to protect against—issues such as the following:
Foundational Cracks
Dirty gutters won't be able to divert excess rainfall away from your home. This means that rainfall will pool at the base of your home, where it could cause your foundation to crack. To avoid this costly and dangerous issue, look to us for a gutter cleaning.
Roofing Damage
A damaged roof is a dangerous problem—and a costly one at that. When your gutters become clogged, your roof is at a high risk of water damage. To prevent that damage and any ensuing repair costs, call us for a gutter cleaning as soon as your gutters appear to need one.
Mold and Algae Growths
The presence of mold and algae on your property can lead to significant health complications if you and your loved ones remain exposed to them. So, you'll want to keep your gutters clean, so they can help to prevent mold and algae from developing on your home's exterior.