Expert Pressure Washing Specialists Serving Maryland Heights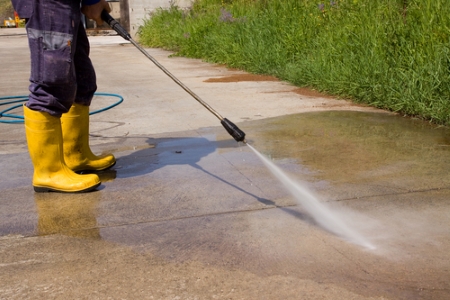 Steen's Power Washing is a local pressure washing company that specializes in providing expert services to homes and businesses throughout the Maryland Heights area. We are committed to providing the best customer experience possible, and we have the knowledge and expertise to make your home or business shine!
Our team is highly trained in handling various types of surfaces, including concrete, brick, stone, and more. We also are experienced in a variety of cleaning tasks such as gutter cleaning, deck cleaning, sealing, and more.
We know that when you need a pressure washing service, you want it done fast and right. That's why we have a team of experienced technicians that provide fast and thorough services with the highest quality standards. We will take care of all your pressure washing needs so that you can enjoy the results for as long as possible and get back to doing what you do best.
Schedule an appointment with one of our technicians in Maryland Heights today and get started on the road to a beautiful, clean home or business.
Effective Gutter Cleaning In Maryland Heights
Steen's Power Washing understands that keeping your gutters in Maryland Heights clean is important for the appearance of your home. That's why we strive to provide efficient, friendly service at a reasonable price and are dedicated to providing you with comprehensive gutter protection.
Our aim is to help our customers prevent any problems before they occur and remove any harmful debris such as leaves, dirt, and moss to ensure the longevity of your gutters.
We're proud to offer both residential and commercial maintenance cleaning throughout the year and offer our Maryland Heights clients the tools and solutions they need to shine through the holidays.
Whether it is your first time taking care of your exterior or you have a large property and need help every month, we can provide the services you need. Contact us today for more information on our gutter cleaning or to schedule an appointment!
Maryland Heights Resident's First-Choice House Washing Provider
Maryland Heights, Missouri homeowners rely on Steen's Power Washing to provide the best house washing service in the area. We offer thorough cleaning of all surfaces, including siding, roofs, driveways, and patios, and will take care of your home like it was our own.
Our experienced house washing professionals remove stains like rust and mold so you can enjoy the beauty of your home again and treat every job with the same precision and attention to detail it deserves.
If you would like to get started with any of our house washing solutions in Maryland Heights, Missouri, give us a call today! We offer free estimates and are ready to answer any questions you may have.