Make Your Home Sparkle with an Exterior Window Cleaning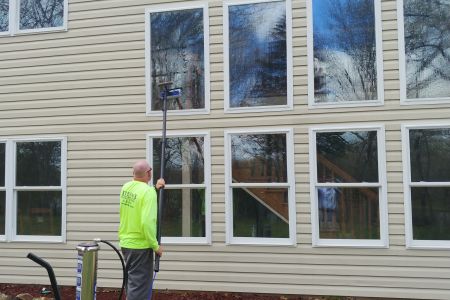 The professional staff from Steen's Power Washing company know that you take great pride in your O'Fallon home, and one way to improve the curb appeal and the cleanliness of your home is to clean your exterior windows on a regular basis. When you use Steen's Power Washing pressure washing crew to clean your windows, you can expect a perfectly streak-free result that will add immense sparkle to your home and to your surroundings. Throughout the St. Louis area, and all of the surrounding vicinities, we take great pride in providing high-quality window cleaning services to all of our residential customers.
Our window washing services are superior due to the process that we use for washing windows. We clean exterior windows using the state-of-the-art Xero 3-Stage RO/DI Purification System. This is one of the top-selling and most popular window cleaning systems available in today's market. This 3-stage process involves 3 levels of filtration that ensure spot-free results every time. When we are finished with your window washing service, your windows will be free from dirt, grime, cobwebs, streaks, and any substance that has accumulated on the window's surface.
Our guaranteed results will amaze you and will enable you to see things more clearly through your like-new windows. Additionally, your home will feel refreshed and shiny, with the streak-free windows and clean window areas.
Steen's Power Washing team members are skilled, experienced, and trained to pay close attention to the fine details, with every project; these are exactly the traits that are needed in order to provide high-quality service to our customers. We offer a variety of window cleaning packages, including screen removal and/or screen cleaning, as well as solar panel cleaning, too.
If you would like to learn more about Steen's window washing packages or if you are interested in a free, no-obligation estimate for a window washing service, then please contact a Steen's Power Washing representative today! Be sure to ask about our commercial pressure washing services if you're a business owner in the area. We look forward to adding some sparkle to your home and to your windows.